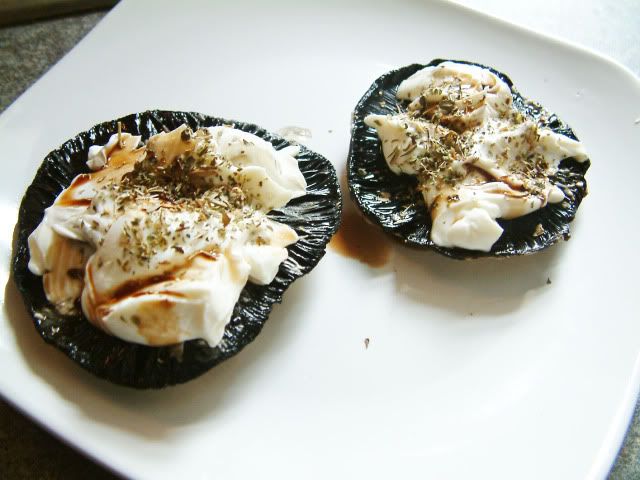 Serves 1
Ingredients:-
- 2 portobello mushrooms (or just big flat ones will do)
- cream cheese
- herbs de provence (or any combo of your fav herbs)
- balsamic vinegar and olive oil for dressing (optional)
To do:-
1.
Preheat the oven to 180C.
2.
Take a wide strip of greaseproof baking paper and line your tray.
3.
Place your mushrooms on the tray (you can remove stalks if you wish) and drizzle with a little balsamic vinegar and olive oil.
4.
Cook for about twenty minutes or until they look 'done', turning over halfway.
5.
Place a dollop of cream cheese in the middle and sprinkle with herbs.
6.
Drizzle more balsamic vinegar and olive oil if desired.
7.
Serve immediately.
---
It's hot outside so I made a small lunch with my favourite vegetable, Portobello mushrooms! Serve with a green salad or copy me and have them with some toast on the side.
To veganize
, simply replace the cream cheese with a vegan alternative.